Monday Special - Four days Classical Tour of Greece
Departures:
Every Monday from April 13th until October 19th 2020
(English-speaking guides)
Departs at 8:00 AM (first day) - returns at 6:30 PM (5th day)

1st day: Depart from our terminal; we are passing by OLYMPIC STADIUM to see the Athens 2004 Olympics main venue. We continue for the CORINTH CANAL (short stop). Drive to EPIDAURUS and visit the Ancient theatre, world famous for its outstanding acoustics. Proceed to NAUPLIA (Nafplion), for checking in our hotel. Free afternoon for walking around the beautiful old town of Nauplia, which was the first capital of Greece. We can also visit the Nauplia Gallery of Art with paintings of famous Greek artists dedicated to the Greek revolution. Dinner at our hotel and Overnight stay in Nafplion.

2nd day: Through the plain of ARGOS arrive to MYCENAE. Visit the archaeological site and the Tomb of Agamemnon. In the afternoon (optional stop for souvenirs) depart for OLYMPIA, the birthplace of the Olympic Games, through the cites of Tripolis and MEGALOPOLIS (short stop). Enjoy dinner and Overnight stay in Olympia.

3rd day: Visit the archaeological site of Olympia with the Temple of Zeus, the Temple of Hera, the altar of the Olympic flame, the Stadium and the archaeological Museum. Depart via PATRAS (short stop) to RION and cross the Corinthian bay by the new bridge to ANTIRION. Pass by the city of NAFPAKTOS and from there on, along the coastal road to DELPHI, known in ancient times as the navel of the world. In the afternoon visit the picturesque mountain village of ARACHOVA. Dinner and Overnight stay in Delphi.

4th day: Visit the archaeological site and the MUSEUM of Delphi. DELPHI, known in ancient times as the navel of the world. Pass by CASTALIA SPRING, visit the archaeological site and view the monument of the Argive Kings, the temple of Pronaia, the treasury of the Athenians, the Athenian Stoa, the Polygonal Wall, the monument of Platea and the Temple of Apollo famous for its oracle and Delphi museum, with it's spectacular exhibits include the frieze of the Treasury of the Sifnians, the Naxian Sphinx, the Statue of Antinoos the metopes of the Athenian treasury, the famous bronze Charioteer, and many other artifacts. In the afternoon, after optional lunch, return to Athens.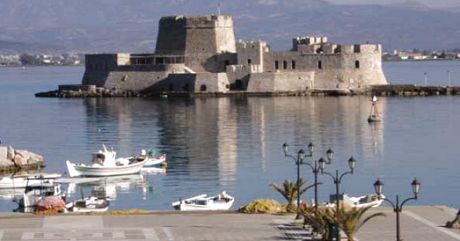 Official prices of this tour:
€600 Euro per adult incl. 3 nights in First Class (4-star) hotels
€530 Euro per adult incl. 3 nights in Tourist Class (3-star) hotels

Our Special prices for this tour:
€499 Euro per adult incl. 3 nights in First Class (4-star) hotels (save €101)
€435 Euro per adult incl. 3 nights in Tourist Class (3-star) hotels (save €95)

Prices per child (under 12 y.o.) when sharing a room with 2 adults:
€300 Euro per child incl. 3 nights in First Class (4-star) hotels
€265 Euro per child incl. 3 nights in Tourist Class (3-star) hotels

Supplement for Single occupancy of the hotel room:
€96 Euro for all the 3 nights in First Class (4-star) hotels
€84 Euro for all the 3 nights in Tourist Class (3-star) hotels

The above prices include Half Board (breakfast and one meal per day)